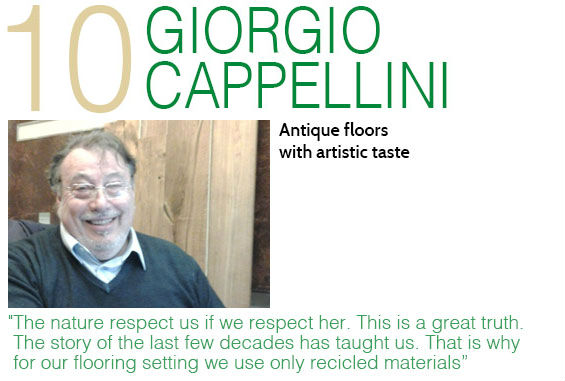 Cappellini Antichi Pavimenti, is an Italian company based that back in the 1848, started as a furnace to produces floor tiles.
Since the late 90s the offer has been extended to the restoration and redevelopment of old wood flooring from Americas, Burma and Europe, with an emphasis on Italian and French products, mainly before coating.
With regard to the terracotta floors of cement tiles, cast stone, tiles and stone floors, both new and recycled.
Throughout a remarkable decade of experience, It has combined the ability to enrich the product recovered by artisanal workmanship and materials to keep (maintain) "alive and eternal," the original features. The maniacal attention to the details during the final the pose gives to the finishing touch that glamour that render/recover the enamel and gives gloss to recycled material.
Made by Giorgio Cappellini